When it comes to the Qantas Frequent Flyer loyalty program, Classic Flight Rewards offer some of the best ways to redeem points for flights. But what are they, how do they work and how are they booked?
Since the most aspirational use of Qantas Points is usually booking a Business or First Class Classic Flight Reward, any savvy Qantas Points collector should have a handle on how Classic Flight Rewards work.
This guide will provide a detailed overview of Classic Flight Rewards to help you understand the ins and outs, including the crucial difference between Classic Flight Rewards and Points Plus Pay. Let's dig in.
What are Qantas Classic Flight Rewards?
A Classic Flight Reward is what a reward or award seat is called in the Qantas Frequent Flyer program. Classic Flight Rewards are airfares that are redeemed with a fixed number of Qantas Points (excluding the taxes, fees, and carrier charges that are levied separately).
The number of Qantas Points needed is dictated by two key factors:
cabin of travel
airline, and
distance/duration of the flight.
Essentially, if you fly further or score a seat up the pointy end you'll usually need more points.
Qantas Frequent Flyer members of all status tiers have the ability to earn Qantas Points, and to redeem a Classic Flight Reward. However, as you'd expect, there are a very limited number of Classic Flight Rewards available on each flight – despite Qantas offering 50% more seats through to June 2023. In fact, some flights may have just a few (or none) reward seats in every cabin.
Classic Flight Rewards vs 'Points Plus Pay' – what's the difference?
There are two ways to book flights using your Qantas Points: Classic Flight Rewards and Points Plus Pay.
Tempting in theory, the Points Plus Pay option offers the ability to use Qantas Points to book any available seat where a Qantas fare is offered – even where no Classic Flight Reward is available.
However, when booking Points Plus Pay seats, Qantas Points are converted to a nominal value of around 0.5 cents per piece – significantly lower than the value that can be extracted when redeeming a Classic Flight Reward outright.
The appeal of Points Plus Pay understandably lies in the accessibility of securing a seat that is otherwise not available to book as a Classic Flight Reward, a scenario that is often seen with premium cabin seats and on routes that are characterised by high booking demand.
The Qantas website displays Points Plus Pay pricing as a default when users search for seats with points. As such, Qantas Frequent Flyer members often wonder why reward seats cost so many points – sometimes millions – and it's often because they are looking at a Points Plus Pay seat, rather than a Classic Reward. We suggest steering clear of Points Plus Pay if possible.
Reward seats are not the same as Points Plus Pay seats. Essentially, you should be on the hunt for a Classic Flight Reward to extract maximum value from your Qantas Points.
How to book a Qantas Classic Flight Reward
So you've collected the points needed to redeem your reward seat – great! Now there are a couple of ways to secure your desired Qantas Classic Flight Reward, and a few tips you'll need to maximise your chances of finding it.

Booking via the Qantas website
The Qantas.com.au website offers a fairly straightforward process to book a Classic Flight Reward. The tricky part is actually finding an award seat, which is why it's always a good idea to be flexible with dates and even destinations.
Here are the steps to securing a Classic Flight Reward online:
Log in to your Qantas Frequent Flyer account
Select the 'Use points' toggle on the 'Book a trip' tab. Alternatively, click 'make a reward booking' on your account
Enter your travel dates, destination and cabin class. Tip: click the 'Flexible with dates' toggle for a better chance of finding a reward seat
Once the results have loaded, filter to the 'Rewards only' option. This will ensure the results only show Classic Flight Rewards (as opposed to the more expensive Points Plus Pay pricing)
After you have identified and selected your flight, you will be directed to pay using your Qantas Points. You will also need to pay additional carrier fees and taxes, which vary in cost – more on this a little later.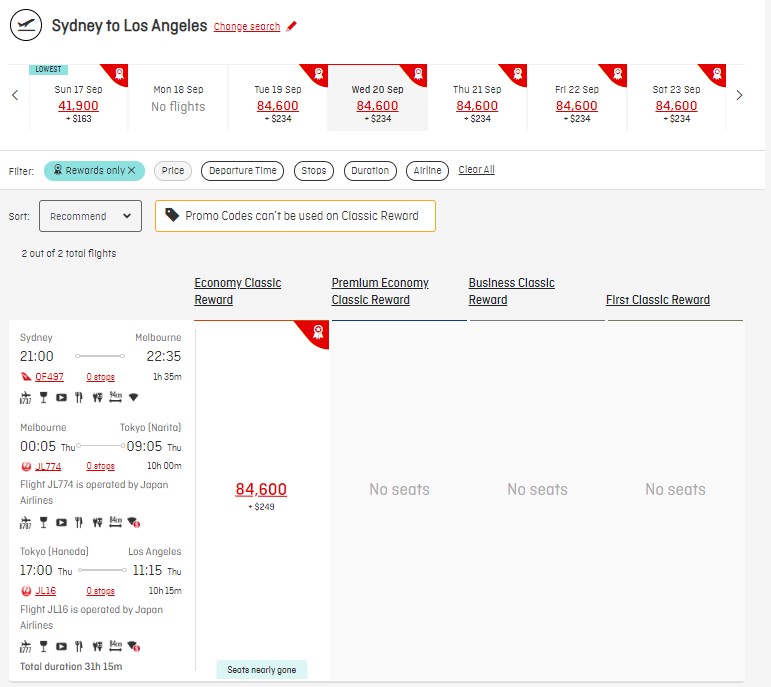 Booking via the Qantas call centre
It is also possible to book a Classic Flight Reward by calling the Qantas Contact Centre at any time. The customer service number from Australia is 13 13 13. You can find the numbers from other countries here.
Note that a fee of $45 for domestic and Trans-Tasman, and $77 for international fare bookings made through the Qantas Contact Centre will apply per passenger for each booking.
As travel demand continues to ramp back up, it's important to bear in mind that the wait time and level of operator experience you'll find at the Qantas Call Centre can vary.
Which airlines can I book Classic Flight Rewards for?
Qantas Classic Flight Rewards can be redeemed on eligible Qantas flights, Oneworld member airlines – including Qatar Airways and Malaysia Airlines – as well as on Jetstar, Emirates, and other select Qantas partners.
Aside from Qantas itself, both Qantas' oneworld and non-oneworld member partnerships offer up admirable redemption goals. Provided you can find a reward seat, the ability for Qantas Frequent Flyer members to book a jaunt in Emirates First Class or the Qatar Airways Qsuites are undoubtedly some key highlights of the program.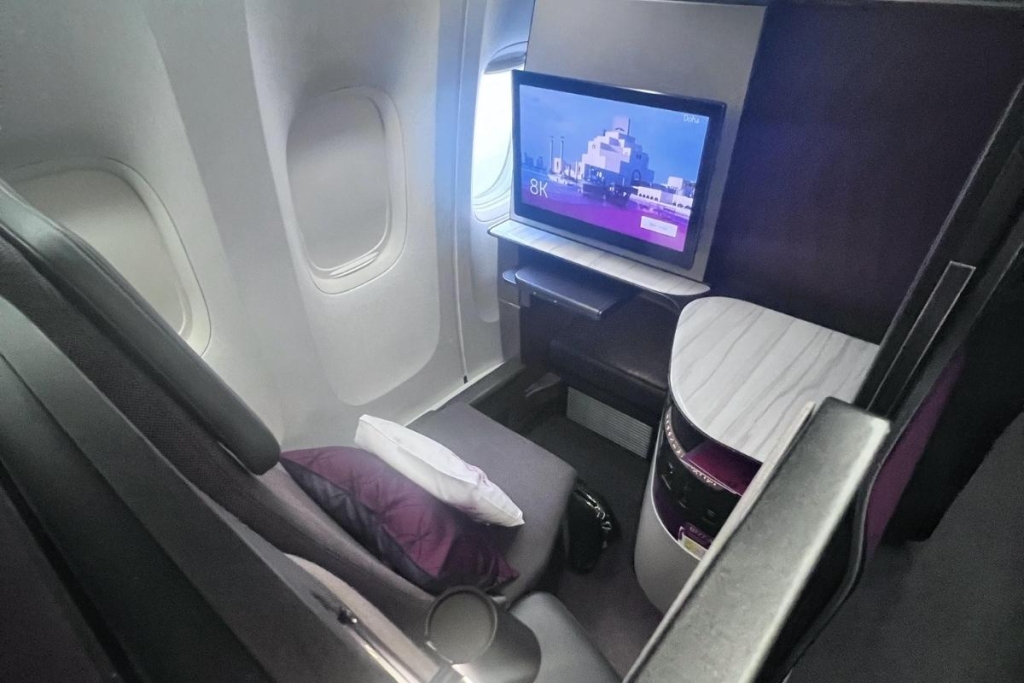 Aside from Qantas itself, here's the list of airlines that offer Qantas Classic Flight Rewards:
oneworld member airlines
A big strength of the Qantas Frequent Flyer program lies in its oneworld membership, which allows members to book Classic Rewards with all oneworld airlines:
Status
Airlines
Member
Alaska Airlines
American Airlines
British Airways
Cathay Pacific
Finnair
Iberia
Japan Airlines
Malaysia Airlines
Qantas
Qatar Airways
Royal Air Maroc
Royal Jordanian
SriLankan Airlines
oneworld connect
Fiji Airways
Future Member
Oman Air
Travelling 'around the world' on a oneworld Classic Flight Reward
Arguably the jewel in the crown of a Qantas Points redemption, the ability to plan and book a multi-segment 'around the world' journey with oneworld airlines can offer serious value.
By leveraging this award, savvy travellers can travel up to 35,000 miles on a single oneworld Classic Flight Reward itinerary, which must include bookings on at least two oneworld partner airlines other than Qantas. The award can be booked across the four classes of travel, with the points cost (excluding applicable taxes/fees) as follows:
| Cabin | Qantas Points needed |
| --- | --- |
| Economy | 132,400 |
| Premium Economy | 249,600 |
| Business | 318,000 |
| First | 455,000 |
While the oneworld Classic Award offers significant value, there are many rules and caveats to navigate. Bear in mind that oneworld Classic Flight Rewards are based on the total distance or return flights travelled, as opposed to one-way trips.
Other Qantas partner airlines
Qantas has a sizable list of airlines outside the oneworld alliance that it boasts partnerships with – these are:
| | | | |
| --- | --- | --- | --- |
| Aircalin | Air Tahiti Nui | China Southern | KLM |
| Airnorth | Air Vanuatu | EL AL Israel | LATAM |
| Asiana Airlines | Bangkok Airways | Emirates | Solomon Airlines |
| Air France | China Airlines | IndiGo | WestJet |
| Air New Zealand | China Eastern | Jetstar | |

How much do Classic Flight Rewards cost?
Classic Flight Rewards vary in Qantas Points cost, depending entirely on the airline, fare class, and distance you want to travel. Qantas Frequent Flyers will be looking at more points to redeem a multi-segment Flight Reward, and can expect to pay more to fly in a premium cabin, and on a partner airline.
The Qantas Points Calculator has a helpful Using Points for Classic Flight Rewards tool that shows how many Qantas Points are needed to lock in a redemption.
Simply plug in your origin, destination and fare class, and the calculator will work out the points required to get there – even with transits and stopovers.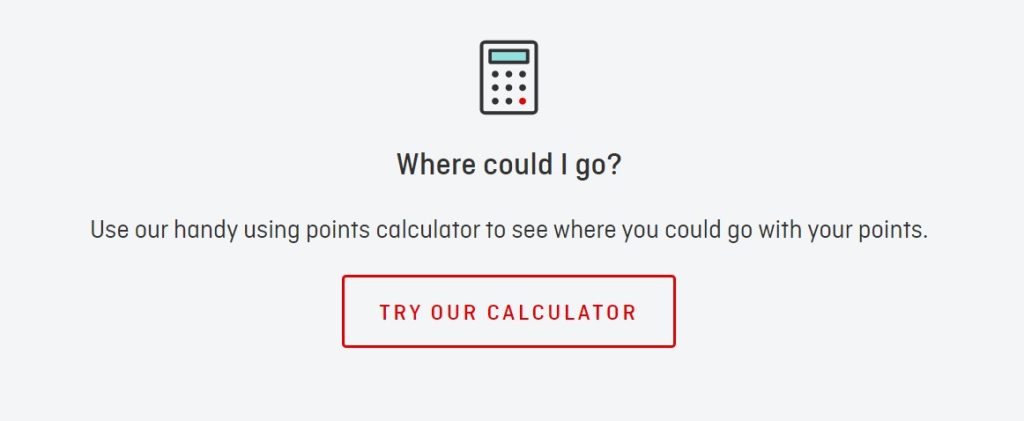 Example Qantas Classic Flight Reward journeys
At the cheaper end, an Economy Classic Flight Reward travelling Qantas on Zone 1 domestic routes such as Sydney to Brisbane and Adelaide to Melbourne can be booked for as low as 8,000 Qantas Points (plus around $36 in taxes, fees and charges). If you're open to flying Jetstar, the Points pricing is even cheaper, at just 6,400 Qantas Points for the same journey.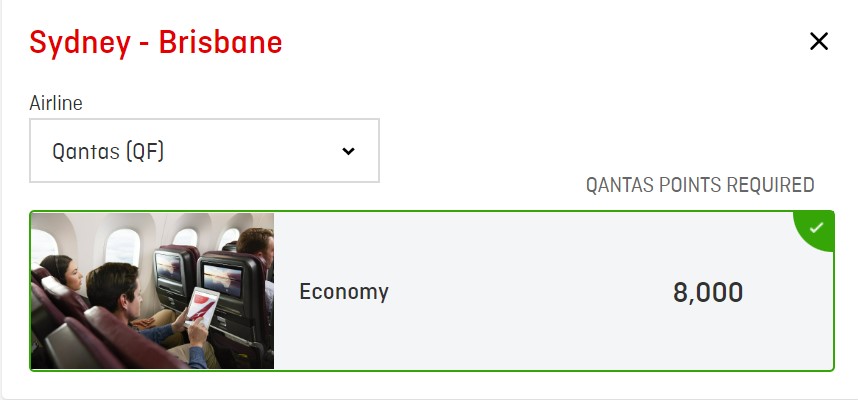 A small stash of Qantas Points could also get you overseas, with a Melbourne to Auckland Classic Flight Reward in Economy on Qantas starting from just 18,000 points (plus around $141 in fees, taxes and charges).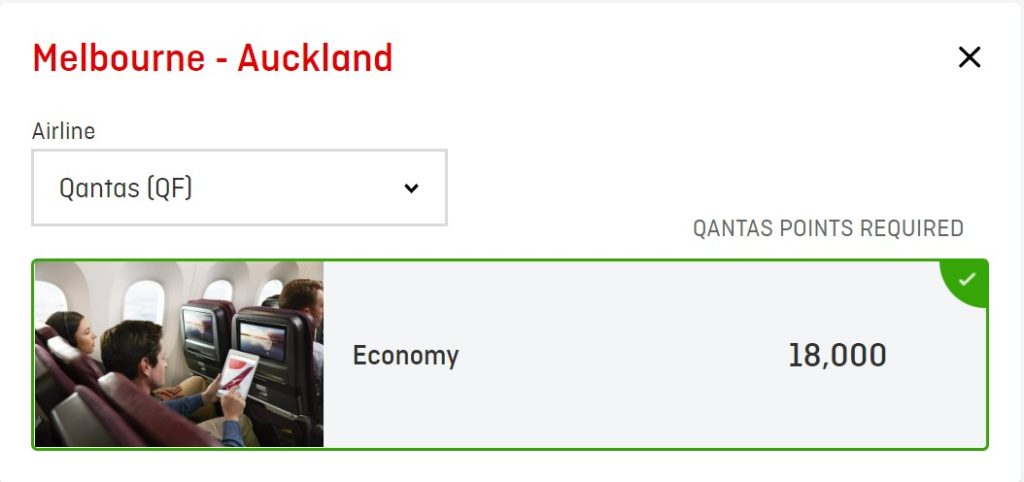 Less than 100,000 Qantas Points could also get you from Tokyo to Los Angeles in Business Class by redeeming a Classic Flight Reward on Japan Airlines (plus applicable fees, taxes and charges).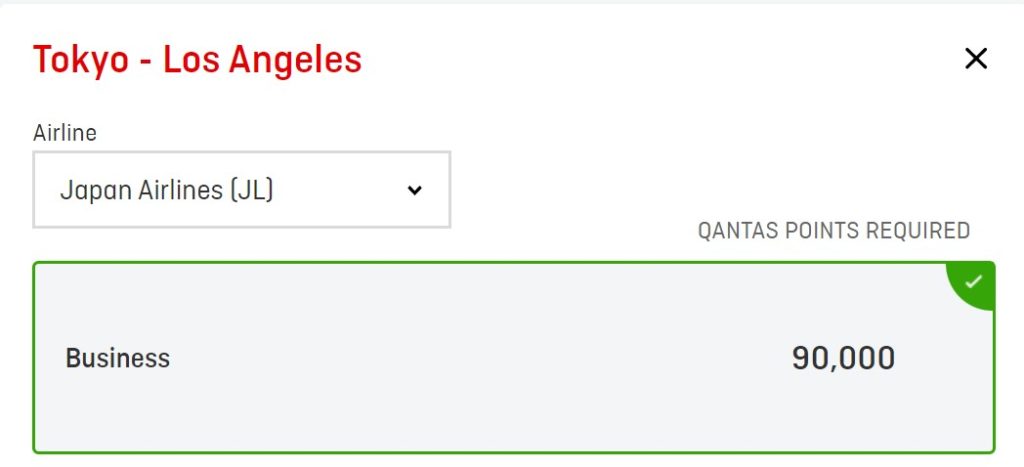 Fancy a first-class experience? You could fly Qantas First Class from Sydney to Singapore using 102,600 Qantas Points. Meanwhile, a Premium Economy fare for the same flight would cost exactly half that amount of points. Additional fees, charges, and taxes apply.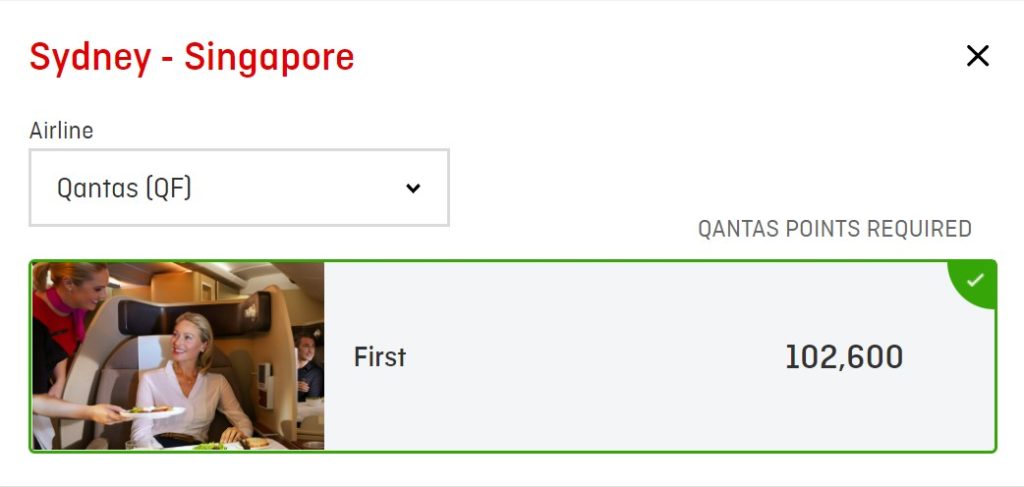 A good rule of thumb here is that the number of Qantas Points required for Business Class is often not much more than double the rate for an Economy fare (sometimes it's even less), while First Class Rewards are usually triple the rate of an Economy Class redemption.
In practice, since Business and First Class revenue tickets are usually significantly more expensive than Economy (sometimes up to 10 times more expensive!) this is why it can make sense to save points up for premium travel redemptions.
Digging into carrier surcharges, taxes and fees
It can be easy to get carried away with the concept of free flights. However, keep in mind that all reward seat bookings will attract taxes, fees, and carrier charges, which essentially means that the booking will still leave you out of pocket. The exception to this rule is the ground-based Qantas and Journey Beyond Rail Classic Rail Reward, where taxes, fees and carrier charges don't apply at all.
What are carrier charges?
While the concept of Government taxes and airport fees is quite straightforward, the concept of carrier charges can be confusing. This fee is levied by the airline in addition to the usual airport taxes you need to pay, and in some cases, it can be quite hefty indeed.
For this reason, you should always factor in the cost of applicable taxes, fees and surcharges when weighing up the benefits of a Classic Flight Reward over a revenue flight booking.
The Qantas website doesn't provide a way of calculating the additional charges for each route other than by going through the booking process, so make sure you are aware of the taxes, fees and carrier charges when doing so.
How much can I expect to pay for carrier charges?
Carrier charges vary by airline and cabin class. Velocity has recently applied carrier surcharges to Singapore Airlines bookings. Other airlines have doubled or even tripled carrier charges during the course of the pandemic, which is certainly worth being wary of upon booking.
For example, passengers travelling on an Emirates First Class Classic Flight Reward will now have to fork out up to $1,800 for one flight segment – a significant barrier.
Japan Airlines is also now levying reward bookings with higher charges – think $600 on a one-way flight in Economy from Sydney to Tokyo – which can really take the value out of a Classic Flight Reward. Currently, a one way revenue flight on this route can attract a fee as low as $1,230 AUD, which means you're essentially paying half the cost of the fare in charges and using the equivalent value in Qantas Points for a Classic Flight Reward.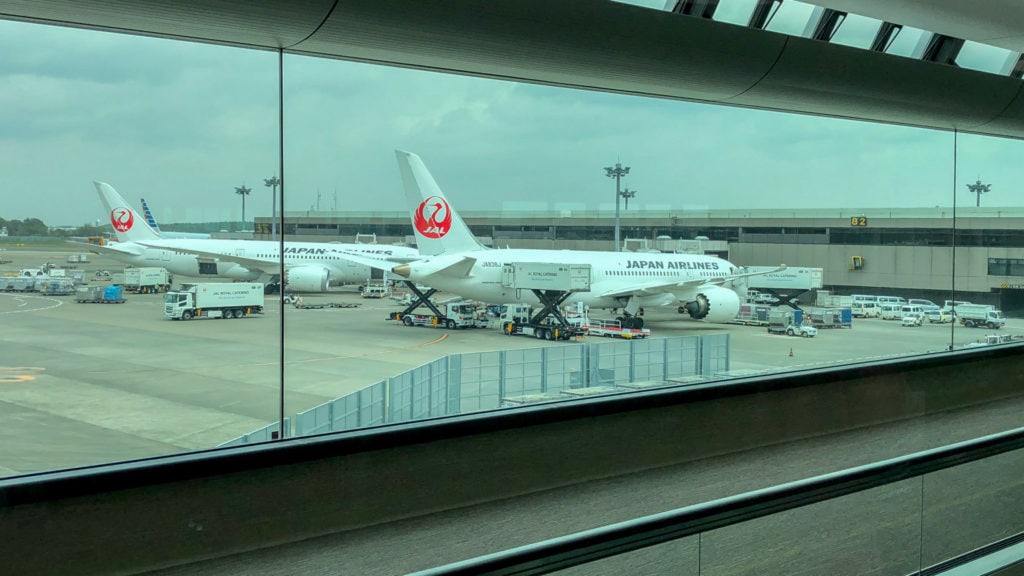 While carrier charges usually sit at around $30-$40 for Qantas domestic fares, hefty fees on international redemptions can certainly add up to much more, especially when booking for a family.
How do I pay fees and taxes?
There is the option to use Qantas Points to pay for taxes, fees, and carrier charges on Qantas, Jetstar and selected airline partner Classic Flight Rewards with an Australian origin. However, this is essentially Points Plus Pay and as such, it represents poor value.
This option should appear visible when you select 'Use money, points or both' upon booking your Classic Flight Reward through qantas.com. All other Classic Flight Rewards are payable by card at the same stage of the booking.
Tips for finding Classic Flight Rewards
So, you've calculated the points needed to redeem a Classic Flight Reward and searched for your desired flight, but didn't quite find what you were after.
Seeing as Classic Flight Rewards are such hot property, it pays to know when award seats are released and how to snap them up as soon as they become available. Here are general tips to keep in mind to give yourself the best chance of securing a Classic Flight Reward:
Book early (Classic Flight Rewards can be booked up to 353 days in advance, with the release dates for award seats varying by the individual airline)
Be flexible with your travel date
Check back regularly
Filter search results by 'Classic Flight Rewards'
Consider flights with partner airlines (not just Qantas)
Utilise the 'Multi-city' tool to find 'outside the box' routing
Harnessing the power of 'multi-city' searches
When searching for reward seats, select the 'Multi-city' option to construct different routing combinations and to view calendar availability over the course of the month. If you only need one flight, create a second flight segment simply for the purposes of searching.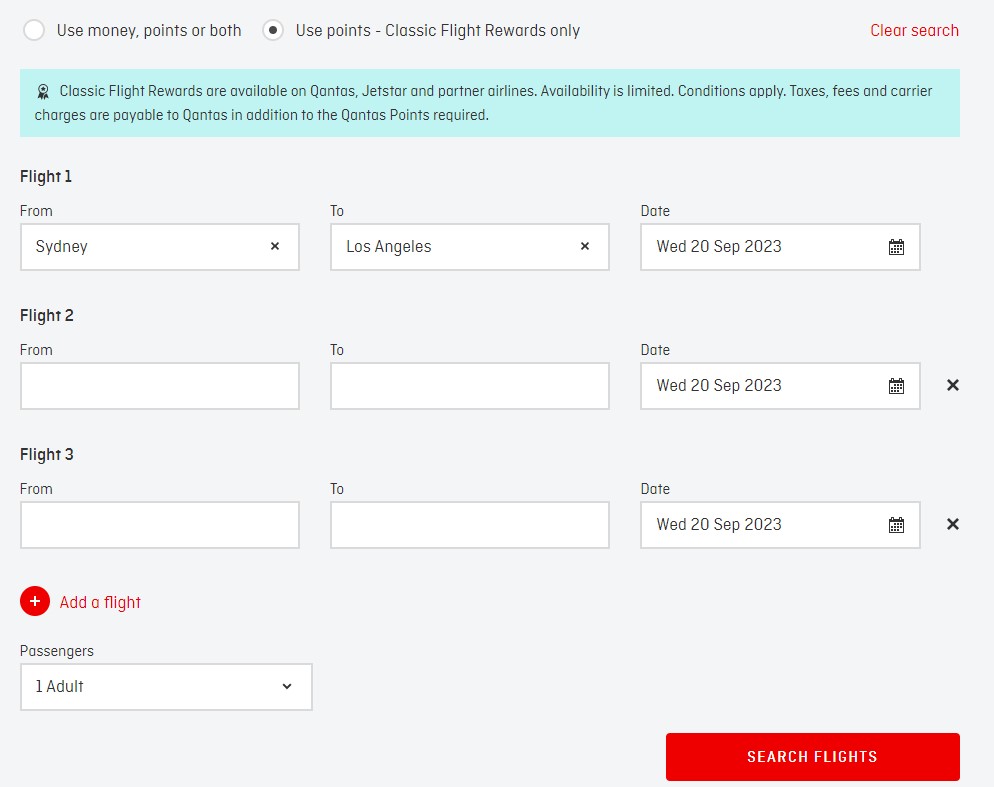 Simply enter your travel dates on the home screen, then click 'Use points – Classic Flight Rewards only', and there you go! Now you should see a tidy view of dates that have reward flights available for your search.
Note that while my date wasn't available on a recent search, this way of searching is much easier to navigate and allows me to search by travel class to find nearby available dates. Flexibility and strategy are key here.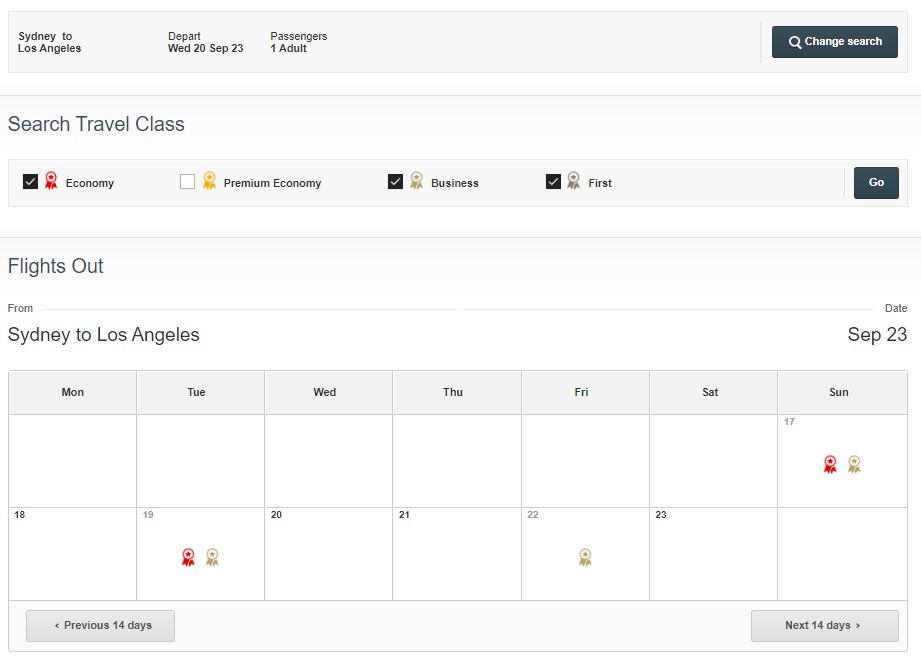 Earning Status Credits on Classic Flight Rewards
To earn Status Credits on Classic Flight Rewards, you'll need to be a part of the Qantas Club for high points earners – Points Club or Points Club Plus.
You won't earn any Qantas Points on Classic Reward Seats, but Qantas Points Club or Points Club Plus members have the unique ability to earn Status Credits on flights with a Qantas Airways flight number.
Unlocking the ability to earn Status Credits on Classic Flight Reward Seats booked with Qantas Points, along with perks like Qantas Club lounge access, is one of the key perks to both tiers of a Qantas Points Club membership.
Best time to book Qantas Classic Reward flights
Early! When it comes to booking Classic Flight Rewards, time is of the absolute essence. 'The earlier the better' is a good rule to live by when searching for reward seats.
Qantas releases Classic Reward flights 353 days in advance to top-tier Gold, Platinum, and Platinum One members, and a reduced 297 days for Silver and Bronze frequent flyers. The most avid points hackers can snap popular award flights (like the new direct Perth to Rome route) up in minutes, which is why it pays to be online when Classic Flight Rewards go live at 11 am AEDT.
In saying that, it can also pay to look for last-minute Classic Flight Reward availability. When booking online you can secure a flight up to two hours before departure within Australia, or up to four hours for international flights.
You'll usually have a lot more wriggle room to book a domestic reward seat, which can be available within a few weeks of booking.
Our handy hack: It's always a good idea to set calendar alerts to remind yourself when a reward seat release date is approaching (or sticky notes on the fridge if you're that way inclined).
There are some useful paid independent tools that do the hard work for you by monitoring the flights you're watching and alerting you when a Classic Flight Reward becomes available. We suggest Award Nexus and Expert Flyer.
How to change or cancel a Classic Flight Reward
If your Classic Flight Reward booking is departing more than 24 hours away, you can make changes or cancel your booking from within 'manage my booking' on the Qantas website or by calling Qantas on 13 13 13 from Australia.
During the height of the COVID-19 pandemic, Qantas introduced the Flexible Classic Flight Reward policy, which allowed frequent flyers to leverage fee-free changes and cancellations on Classic Flight Reward bookings.
This means that if you used Qantas Points to book a Classic Flight Reward before 30 September 2022, you'll be able to change your travel dates or cancel your booking fee-free until 31 December 2022.
What if I cancel outside of these dates?
Of course, changing or cancelling a Classic Flight Reward after this date is not the end of the world. Qantas charges a small fee of 6,000 Qantas Points for each booking cancelled with more than 24 hours notice.
This effectively takes the pressure off committing to a Classic Flight Reward booking almost one year from the flight, as you'll never be charged the full fare if your plans change.
You can find more information on Qantas' Flexible Classic Flight Rewards and Help and Support pages.
Summing up
Qantas Classic Flight Rewards offer some of the best ways to use Qantas Points. Redeeming a business or first class Reward Seat at a standardised sum is the epitome of extracting maximum value from your points – the beauty of a Classic Flight Reward is absolutely in the fixed price.
Redemption opportunities with an array of oneworld and other partner airlines offer some especially compelling redemption opportunities, with the ability to use Qantas Points to secure a oneworld classic award, a journey in Emirates First Class or a flight in the Qatar Qsuites offering some particularly aspirational options.
If it all seems too good to be true, that's because extremely limited award availability on popular routes may just mean it is. However, looking and booking far in advance will give you the best chance of successfully securing your dream Classic Flight Reward.
Not a member of the Qantas Frequent Flyer rewards program? There are many ways to join for free.
FAQ: Qantas Classic Flight Rewards
What is a Classic Reward flight?
Classic Flight Rewards offer Qantas Frequent Flyers a way to 'pay' for an eligible flight using Qantas Points (excluding taxes, fees and carrier charges).
How many Qantas Points do I need for a Classic Reward Flight?
It varies depending on the flight. You can find a Classic Flight Reward economy seat for 8,000 Qantas Points on some domestic routes. The Using Points for Classic Flight Rewards Calculator will tell you how many points you need.
Can I earn Qantas Points on a Classic Reward Flight?
No, you won't earn Qantas Points for Classic Flight Rewards, but Points Club or Points Club Plus members will earn Status Credits on Classic Flight Rewards with a Qantas flight number.
While you're here: Subscribe to our newsletter for the latest tips, deals and news. It only takes a few seconds and we respect your privacy: