Woolworths has launched a new paid Everyday Extra membership, promising discounted shops and more points. But is the bang worth the buck?
Introducing Everyday Extra: a subscriber-only program that unlocks compelling perks like a game-changing 10% grocery shopping discount once per month for more than 13 million existing Woolworths Everyday Rewards members.
As far as Australian supermarkets go, Woolworths offers a competitive loyalty program. And, in a landscape of ever-increasing living costs, it's fair to say that this paid program is one worth knowing about.

What is Everyday Extra and how does it work?
Just like it sounds, Everyday Extra is an addition to the existing Woolworths Everyday Rewards loyalty program. In exchange for a monthly fee, Everyday Extra offers a range of additional perks, which are bound to hold significant appeal given the rising cost of living.
The headline perk is the ability to save 10% off one shop, once per month, at both Woolworths and Big W – up to a cap of $50. In using this benefit, Woolworths says it expects dedicated Everyday Extra members may be able to unlock savings worth over $400 per year.
The program also promises access to complimentary products, subscriber-only offers and the ability to earn extra points – triple the regular earn rate of Everyday Rewards members.
It's easy to see why an Everyday Extra subscription may be appealing – particularly if you're an avid Woolies devotee – but as always, it's worth considering whether you're getting enough value out of the paid program.
How much does an Everyday Extra subscription cost?
Everyday Extra subscription options are straightforward. Essentially, if you're planning to stick with your subscription long-term, you're better off paying for a year in advance because you'll save $25 with a 29% discount.
Existing Everyday Rewards members can opt for one of the following two payment plans:
Annual: $59 per year
Monthly: $7 per month (works out to be $84 a year)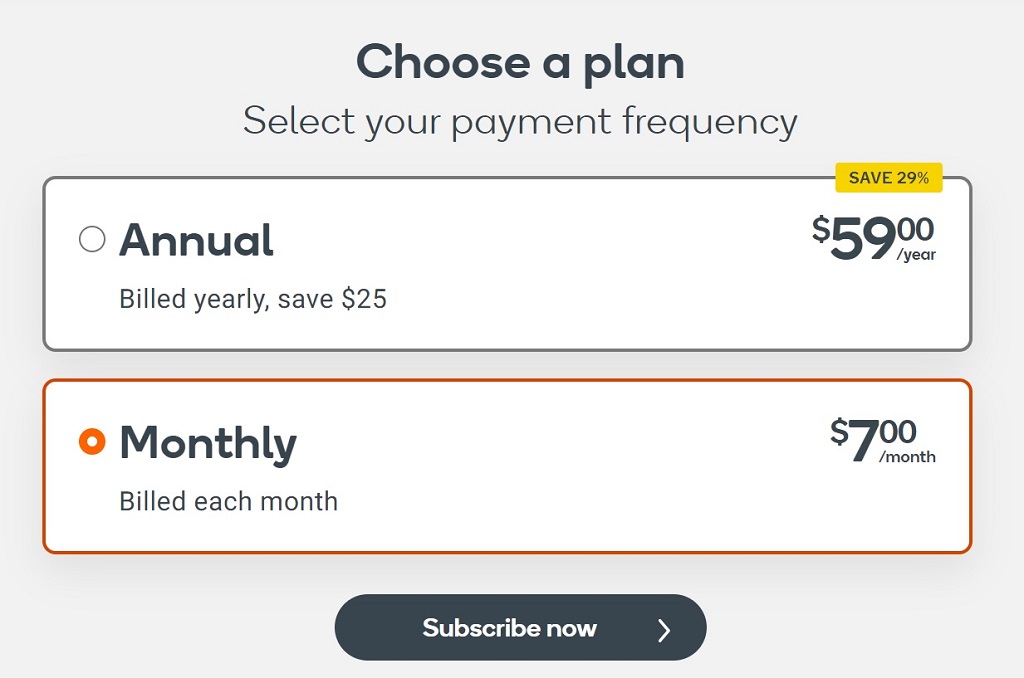 How does the 30-day free trial work?
Technically, there's a third option for those who want to test the waters, which may prove to be a sensible way to assess the value of the scheme.
Woolworths is currently testing its new program by emailing current Everyday Rewards members an invitation to start a 30-day free trial.
You can still sign up for the trial if you haven't received this email, however, you'll need to be an Everyday Rewards member before doing so.
How to subscribe to Everyday Extra
Simply head to the Everyday Extra page and click 'start your 30-day free trial'
You'll then be prompted to choose a plan (which you'll be charged for after the 30 day trial)
Click 'subscribe now'
Fill in your Woolworths online account details
Enter payment details

New subscribers will be able to access Everyday Extra benefits for 30 days, with the option to continue with a paid monthly or annual subscription plan after this time. If after the 30 days you decide you're not getting the 'extra' from Everyday Extra, you can simply decide to cancel.
While Woolworths sends a reminder email a few days before the free month is up, we suggest jotting the date down somewhere to avoid rolling over into an annual plan.
It's worth noting that Woolworths won't offer a refund for plans cancelled after the subscription has moved into a paid plan.
Benefits of an Everyday Extra subscription
Beyond the free trial, there are three key benefits an Everyday Extra subscription offers, as outlined below.

Save 10% off a monthly shop
Everyday Extra members will be able to access a couple of key discounts here. Once a month, subscribers can take 10% off one shop of their choosing – once at Woolworths and again at Big W.
Since the discount on offer is capped at $50, you'll hit the savings cap on a $500 shop. Therefore, it makes sense to apply the discount to your most expensive shop each month.
Planning a single monthly bulk shop is not only a great frugal living tip, but also a strategic way to get the most out of this valuable benefit.
By maxing out the monthly discounts on offer, shoppers could technically save up to $1,200 a year ($600 at Woolworths, and a further $600 at Big W). While it's unlikely that many members would be spending $500 once monthly at both Woolworths and Big W, there's still scope to come out ahead with an outlay of $59 for Everyday Extra annual subscription.
Breaking down the 10% shopping discount
When it comes to subscription services, it's crucial to ensure that the value on hand justifies the membership cost outlay.
Data from the ABS Household Expenditure Survey shows that a couple living in Australia spends on average $331 a week on groceries.
However, according to recent ABS Consumer Price Index data, the cost of vegetables has increased by 12.7% from March 2021 to March 2022, suggesting that the weekly Australian grocery shop is likely to be even higher.
A 10% discount on a $331 Woolworths shop would see a monthly saving of $33.10, which would work out to be just shy of $400 over the course of one year. As such, whether you pay for a monthly or yearly subscription, you'd be coming out on top with at least $316 in your pocket after taking the annual Everyday Extra membership cost into consideration.
Collect triple the points
Grocery shopping discounts aside, another key Everyday Extra program perk is the ability to earn triple the normal number of Everyday Rewards points earned instore or online at Woolworths and Big W.
Essentially, where Everyday Rewards members would usually earn 1 point per $1 spent, Everyday Extra subscribers will collect 3 points per $1.
To break this down, a $300 Woolworths grocery shop would see Everyday Extra members earn almost half the number of points required to unlock $10 off a shop, or 1,000 Qantas Points.
Enjoy exclusive offers
Finally, Woolworths has sweetened the deal with a range of 'subscriber-only' exclusive offers and free products. We're expecting to see Everyday Rewards points booster promotions on offer here, which could prove particularly useful for boosting an Everyday Rewards balance.
Get paid to shop (yes, seriously!)
Legitimate research companies are always seeking insights into consumer behaviour. You can earn cash, gift cards and more, simply for your participation:
TIP: These legitimate sites are free to join. We recommend you sign-up for multiple shopping sites in one go for the best chance to earn more cash and rewards.
Everyday Rewards vs Everyday Extra: what's the difference?
Not yet sure if it's worth upgrading your Everyday Rewards membership to Everyday Extra status? We've prepared a comparison table below to help highlight the differences.

Shoppers who hold an Everyday Rewards card can currently earn one point per dollar spent at Woolworths and Big W, as well as claim a $10 discount at the checkout or opt for 1,000 Qantas points for every 2,000 Everyday Rewards points.
The ability to unlock supercharged points earn rate, along with the subscription fee and other extra perks are the main differences between the programs. Here's how Everyday Rewards and Everyday Extra stack up at a glance:
| | Everyday Rewards | Everyday Extra |
| --- | --- | --- |
| Cost | Free | $7 per month or $59 per year |
| Cancel anytime | Yes | Yes |
| Rewards for every 2,000 Everyday Rewards points | Yes | Yes |
| Monthly 10% off Woolworths shop | No | Yes (capped at $50) |
| Monthly 10% off Big W shop | No | Yes (capped at $50) |
| Points-earn rate (at Woolworths and Big W instore and online) | 1 Everyday Reward point for every $1 spent | 3 Everyday Reward points for every $1 spent |
| Additional benefits | No | Yes (monthly subscriber-only offers) |
Everyday Extra vs Coles Plus: who comes out on top?
Before taking out an Everyday Extra subscription, it could be worth looking at the alternative program offered by rival supermarket brand, Coles.
Early in 2021, Coles introduced Coles Plus, a paid subscription service that operates separately from the free-to-join Coles Flybuys program. Here are the main benefits of a Coles Plus membership:
earn double Flybuys points (on eligible online purchases)
get free delivery (for orders over $100)
get one free delivery per month for a Liquorland delivery over $50
get unlimited access to Click&Collect Rapid
access to a priority customer care line
As can be seen, the key benefits include free deliveries on orders and supercharged Flybuys points earn rates. However, unlike Everyday Extra, no capped monthly discounted grocery shopping saving is included. That's arguably a big disadvantage, with many shoppers likely to see the benefits of a 10% Woolworths and Big W discount in the face of significantly rising cost of living pressures.
The strength of Coles Plus appears to be more in the free delivery benefit, which is where the real value lies. There are still some strings attached, but in saying this, it's not difficult to spend more than $100 on a grocery shop with a little strategic planning.
When it comes to comparing points earn, Coles Plus members earn just double points (2 Flybuys points per $1 spent) on eligible Coles Online purchases, so the triple Everyday Rewards points earn rate accessible via Everyday Extra comes out in front.
Essentially, Coles Plus seems more suited to those who do their grocery shopping online and make use of free delivery, as well as the many Flybuys partners. On the other hand, Everyday Extra offers more value in-store, plus a greater capacity to collect points.
Coles Plus costs $19 a month, which works out to be $228 each year (significantly more expensive than Everyday Extra).
For a more detailed comparison of Coles Flybuys and Woolworths Everyday Rewards, head to our comprehensive Flybuys guide.
Bottom line: Is Everyday Extra worth it?
Those who regularly shop at Woolworths will likely find value in taking out an Everyday Extra subscription.
For maximum value, shoppers will need to strategically time the monthly 10% discount benefit with a big shop. That said, even without an overflowing shopping trolley, spending upwards of $70 on a single grocery shop once per month (easily done nowadays) will cover the cost of a $7 subscription, with extra points and subscriber-only perks on top.
If nothing else, it's certainly worth leveraging a 30-day free trial to earn triple the points during that time. Doing this over Christmas could easily see shoppers bag upwards of 600 Everyday Rewards points and save up to $100 across shops at Woolworths and Big W.
In terms of extracting maximum value from your extra Everyday Rewards points, we'd recommend converting them to Qantas Points and saving them up for Classic Flight Rewards and upgrades.
Keen to bank even more Everyday Rewards points? Here's how you can earn 20X points with gift cards.
What do you think about Woolworths Everyday Extra?
FAQ: Woolworths Everyday Extra
Do I need to be an Everyday Rewards member to join Everyday Extra?
No, you do not need to be an Everyday Rewards member, however, joining Everyday Rewards first may be worthwhile for the 30-day free trial membership option.
Can I pause my Everyday Extra subscription?
Not at present, although Woolworths has flagged it as something they are working on.
Where can I see savings and points from my Everyday Extra subscription?
Log in to track the Extra Discounts and Extra Points you receive under My Account in the Everyday Rewards app or website. In some instances, a 2-day lag may apply to your balances being updated.
While you're here: Subscribe to our newsletter for the latest tips, deals and news. It only takes a few seconds and we respect your privacy: