Forget the pubs, op shop crawls are arguably the best way to wear designer clothes on a dollar store budget.
Many trends are circular, and fashion is certainly no exception. If you're someone who cringes at the thought of paying top dollar for the flare jeans that used to adorn your parents' wardrobes, then perusing opportunity (op) shops could become your latest hobby.
More than a pastime, being a savvy op shopper is often synonymous with core life values. Buying preloved clothes is a simple way to live frugally – saving wherever you can. I'm talking a $950 designer wardrobe for well under one hundred dollars.
It's also a widely accessible way to protect the environment by reducing waste, and find your individual fashion sense by helping you stand out from the crowd (or blend in, if that's more your style).
From saving pennies, contributing to the greater good and dressing to impress, we've covered the tips and tricks to navigate Australia's best op shops. Read on to discover how going pre-loved can help you this season (and every season after that).
Case study: my designer office wear haul
I recently felt as though my office style needed a seasonal revamp – dress well, work well, right?
A half-day meander around my go-to op shops in Adelaide CBD and surrounds saw me pick up five staple pieces (worth almost $950) for a total of under $90 – each the perfect addition to my capsule business wardrobe. Hard-pressed to find any one of these items in store for under $100, I'd count this as one of my savviest shops yet.
Here's my Spring op shop receipt:
| | | | |
| --- | --- | --- | --- |
| Item | Brand | Op shop | Price (AUD) |
| Cashmere and cotton turtle neck sweater | Saba (149.00) | Red Cross | $5 |
| Crisp shirt | The Fifth Label (RRP $139.95) | St Vincent De Paul | $15 |
| Dress pants navy (new with tags) | Acler (RRP $270) | St Vincent De Paul | $20 |
| Dress pants black | C/Meo Collective (RRP $199.95) | Salvation Army | $10 |
| Closed toe black leather clogs (new with tags) | Jo Mercer (RRP $189.95) | Aggie's (Saint Augustine's Church) | $35 |
| Total spend | | | $85 (RRP $948.85) |
Pro tip: if you don't know your way around quality brands, it pays (literally) to conduct a quick online changeroom search or bring along a shopping partner who can spot a brand bargain.
Buy more, spend (way) less
When was the last time you bought something brand new off the rack? Online shopping with the click of a button has made it more convenient than ever to ignore the often-ludicrous markup on new clothes.
Let me ask you this: why fork out hundreds of dollars for 1-2 items when you could pick up a whole outfit (and then some) for the same price? When it comes to getting bang for your buck, it's hard to beat op shops.
Often viewed as a place to pick up quirky themed-party items, op shops are just as helpful for wardrobe staples. Take jeans for example. Macquarie Bank research estimates production costs for a pair of jeans that retail at $US109 to be just $US12. Seeing as a pair of new quality jeans commands prices this high, it makes sense to turn to op shops.
According to Roy Morgan, Australians have an affinity for denim, with well over 1.5 million Australians over the age of 14 buying at least one pair of denim jeans. This would explain why almost every op shop in the country seems to have decades of jeans to choose from.
A quick lunchtime perusing of my local Red Cross op-shop revealed quality denim brands like Mavi, Abrand and Rollers hidden amongst the more populated, Cotton On and Kmart options. The better-known brands ranged from $40-$60, while others could be picked up for as little as $10-$15 – all in excellent condition and great finds for anything from an occasion to daily work wear.
Buying second-hand makes even more sense for children who usually outgrow their clothes in what often seems like the blink of an eye. It's for this reason that your local op-shop is likely teeming with near-new kid's clothing that could see you save big on the next growth-spurt.
Interested in how else to live frugally? Check out The Champagne Mile's 20 best frugal living tips to save money.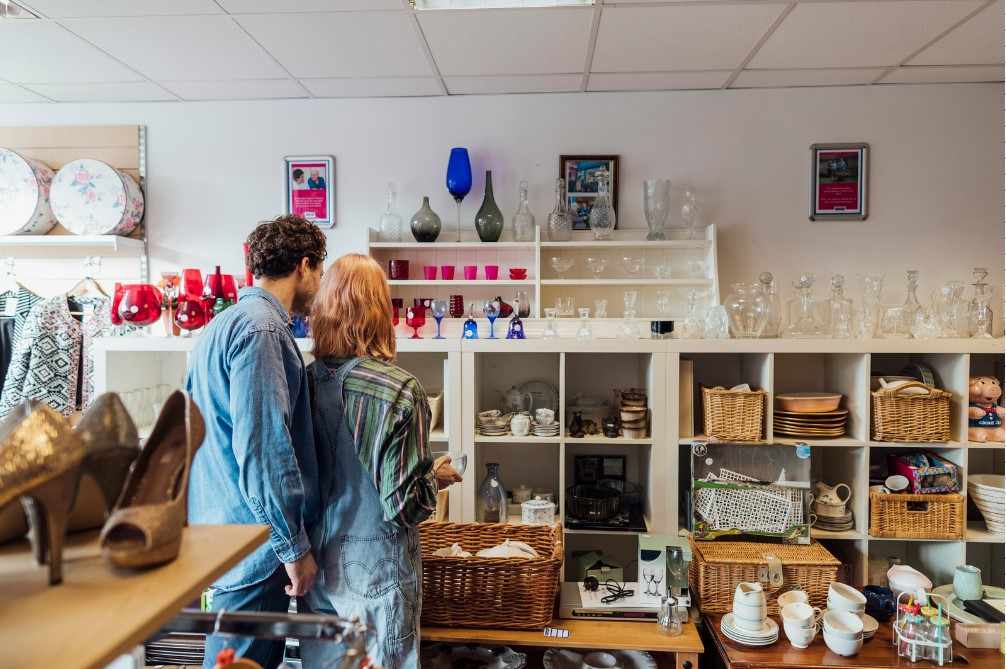 A greener way to shop
Op shopping doesn't just benefit your account, it's something you can do for the environment too. Simply put, we've found ourselves in a war on waste, and op shopping is a big win in curbing the environmental crisis.
A new report from the Australian Fashion Council found Australians buy on average 56 new items (14.8kg) of clothing every year, making Australia one of the highest consumers of textiles per capita in the world. The report found that this translates to a disturbing 6000kg of Australian clothing dumped in landfill every 10 minutes, but these numbers needn't be so high. Buying pre-loved clothing offers a simple way to reduce textile waste.
This is where op shopping is a double-edged sword of the best kind. Donating unwanted clothes to an op shop not only prevents the items from further polluting the earth in landfill, it gives someone else the opportunity to give them a new life, rather than supporting the demand for new clothes.
Arguably one of the most substantial ways to curb individual waste, the pre-loved clothing trend has given a whole new meaning to op shopping. Once a means to an end for those who perhaps couldn't afford new clothing, op shopping has become the way many Australians prefer to shop in an effort to stop a global obsession with fast fashion.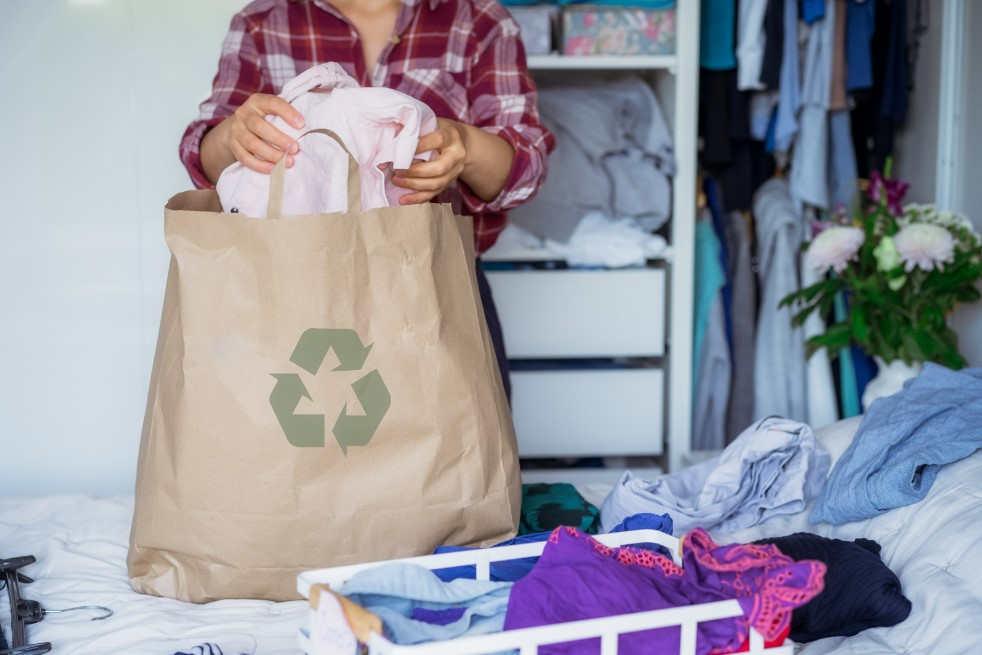 What is fast fashion and why is it a problem?
A recent Ibis World report on fast fashion trends in Australia from 2017-2022 valued Australian fast fashion as a 2-billion-dollar market comprised of almost 800 businesses. While the fast fashion industry employs over 10,000 Australians, the environmental impact shouldn't be ignored.
Fast fashion is essentially the latest fashion styles offered at affordable prices. This sees retailers take trends from runway shows and deliver them as new collections for mass consumption, with short production and distribution times enabling them to adapt an entire range to emerging trends in a matter of weeks.
The rise of fast fashion has been almost solely dependent on cheap-to-produce synthetic fibers made from heavily processed fossil fuels. Polyester, for example, costs half as much per kilo as cotton, which is largely how fast fashion brands keep their prices so low. The main synthetic materials found on our shelves include:
polyester 
nylon 
acrylic 
elastane
These manmade fibres are essentially plastic clothes that don't decay readily, but instead shed thousands of micro plastic particles when washed or disposed of in landfill. According to the Ellen MacArthur Foundation, clothes release half a million tonnes of microfibres into the ocean every year, which is equivalent to more than 50 billion plastic bottles.
When it comes to clothes, plastic is not fantastic. While they may be cheaper for your wallet, plastic clothes come at an absorbedly high price for the environment (and your health). Simply put, choosing to purchase from op shops interrupts the destructive 'buy, use, discard' cycle.
Find your unique style
Buying pre-loved vintage clothes is on trend, so it's likely you will be too by choosing to op shop. Chances are, stepping into your local op shop will present you with a time warp of fashion trends.
Colour psychology absolutely extends to fashion. Clothes say a lot about a person and are a fundamental way to display a unique sense of style. Like a fingerprint, a person's fashion sense is unique to them. From eclectic prints, to minimalistic neutral tones, your personal style offers a telling window into how you tick; perhaps the way you dress mirrors your mood.
The problem with shopping from fashion retailers is that we're more often than not presented with racks of styles that fit the mould of a current trend that may or may not reflect our personal taste. What you see instore is usually determined by fierce competition and the latest runway collections.
For example, I recall a time when I was hard-pressed to find anything other than floral prints in stores (I don't pop in floral). This is actually what opened me up to the world of op shops, and I can safely say that I haven't looked back. Since then, I've personally discovered that I'm drawn to trends gone by, and my healthy collection of op-shopped vintage flared pants share this fact.
While not all op shops are created equal, most offer a plethora of fashion inspiration across decades of trends, allowing shoppers to do the time warp again (and again). Clothes tell a story, and op shops offer an ideal alternative when the items in store don't quite do justice.
Australia's top 10 op shops
Most suburbs and small towns across Australia have an op shop run by either the Salvation Army, St. Vincent de Paul Society, Red Cross, and other charity organisations. Below is a list (in no particular order) of Australia's top ten op shops and the causes they support, as well as some other places to buy pre-loved clothes online.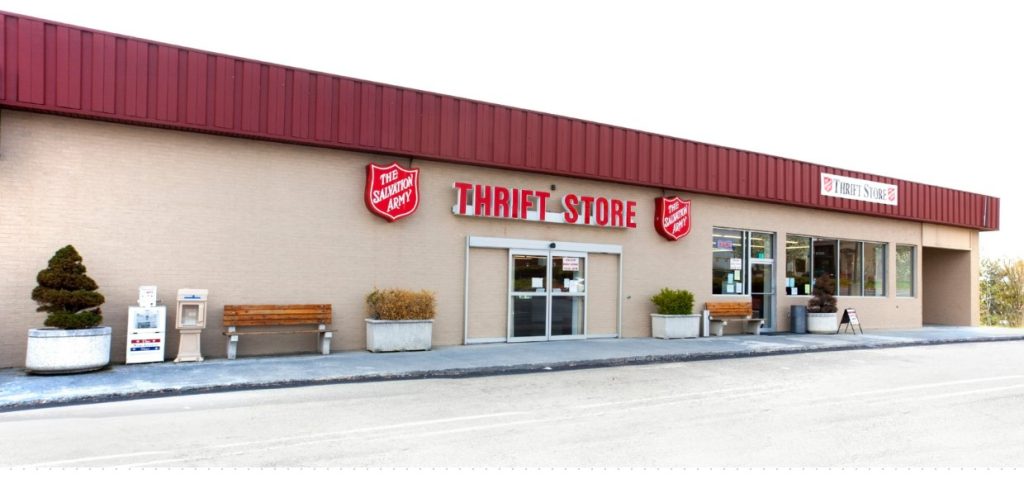 1. Salvation Army
Salvos Stores specialise in the sale of items donated in good condition. From family stores, to thrift shops and well-known outlets, Salvos is a hub for affordable vintage pieces. Salvos Stores are dotted around the country – you can find your locals here. All profits share the love by funding Salvation Army programs around Australia and giving hope where it's needed.
2. St Vincent De Paul
Fondly known as 'Vinnies', this is one of a pre-loved fiend's ultimate op shops. With over 650 stores across the country, chances are there's a Vinnies just down the road – Sydney has over 50 stores alone! When I'm visiting and in the market for a unique piece, Vinnies Glebe is one of my ultimate favorites. Each purchase will keep clothing out of landfill while inspiring change in your local community. Visit this link to enter your postcode and find your closest store.
3. Red Cross
Funds raised from Red Cross op shops support Red Cross teams as they help people to overcome hardship, crisis and disaster across Australia and the Asia Pacific. With great quality control and locations in cultural hubs, this could be your go-to op shop for mint-condition vintage and retro clothing. I personally can't go past Red Cross Newton when I'm in Sydney. Click here to find a Red Cross shop near you.
4. Savers
Savers is an iconic thrift and second-hand store, with locations throughout South Australia and Victoria, as well as the US and Canada. This thrift superstore stocks over 10,000 fresh items every day, and is responsible for keeping millions of pieces in circulation and out of landfill. A more warehouse-type chain, Savers is the place to find basic styles at often ridiculously affordable prices.
5. Lifeline
This Australian organisation takes almost 2,000 calls for Australians in need of support. Relying on generous donations across hundreds of op shops, Lifeline is a great option to pick up pre-loved clothing, books, furniture homewares, or accessories while helping to fund a cause that saves the lives of Australians.
6. Save the Children
Most of us want to save money and help create better lives for children, and this is where you can do both. Each purchase creates better lives for children in Australia and overseas, and with locations across most of Australia, it's an easy cause to support.
7. RSPCA
Love animals and clothes? Australia's RSPCA Op Shops could be for you. I write this only hours after picking up a quality denim jacket for just $15 at my local store on Rundle Street in Adelaide. If you're a regular, most RSPCA stores will take your details and notify you of new arrivals before they get snapped up by the public.
8. Anglicare
With stores around the county and 24 prime op shop locations around Sydney alone, Anglicare is a great addition to any op shop craw. Anglicare op shops form somewhat of a shopfront for the wider organisation's local churches and community services that exist to support people through the sale of recycled goods.
9. Lions
If you're more inclined towards that quintessential market thrill, then experiencing a Lions market could very well be your way to thrift pure bargains. These bustling elbow-in-face markets are organised by local Lions clubs and usually run weekly or fortnightly. Running through the gates on the first and third Saturday of every month has seen me snatch designer dresses for just $5, not to mention furnish my entire living room for spare change! Now Australia's largest service club organisation, chances are there's a Lions market near you.
10. Depop
While most physical op shops now have online stores – some even offering free delivery over a certain amount – a few online clothing marketplaces have emerged, cue Depop. Depop is an online platform designed to allow people to buy and sell used clothes remotely and allows its users to set up an entire shop, or simply sell a few items. Like a grandmother's closet, this flexible social e-commerce enterprise is teeming with vintage finds.
RELATED: Five reasons why the FIRE movement could be for you
To buy or not to buy: which items to leave on the rack
While the significant downsides to fast fashion may well be enough to steer anyone in a pre-loved clothing direction, it should be noted that op shops can also pose a few challenges for shoppers.
Finding the right fit can prove troublesome. Unlike retail stores, which often have ample sizes to choose from, op shops usually only stock one of each piece. This means that while you may have found an item you like, it likely won't fit just right. I personally don't mind a bit of wiggle room, but if you prefer a tailored fit, then op shopping may not be for you.
Wear and tear is also something to be mindful of. Say the stars align, seeing you jag your dream pair of jeans that also happen to be in your size, there's still a chance their previous life left them with some wear and tear. While most op shops only accept clothes in good condition, some wear slips through the cracks. It's important to make sure your prospective piece of clothing has enough wear left for you.
Other op shop downfalls
Time and patience are two things op shoppers must bring along. Most stores are set out in a logical order, usually featuring some sort of size and colour coordination, however an air-punch-worthy find can take some seriously tedious sifting.
Often out the way, op shops are standalone stores scattered throughout cities and suburbs. This means a decent haul will usually involve travelling between charity stores, rather than the convenience of all your favourite brands in one mall.
Not always as cheap as you think! A common misconception is that opting for pre-loved can mean sacrificing style, however op shopping can actually become a style or price tradeoff. Thanks to the ease of a quick online search, many op shop staff are quick to spot a brand and lift the price. Similarly, while items labelled as 'vintage' are usually great quality, they can often cost far more than fast fashion.
There are definitely some downsides to consider for those considering saving their wallet, style and the environment by op shopping. The table below weighs some of the positives against the negatives of buying pre-loved.
| | |
| --- | --- |
| Upsides | Downsides |
| Save money (most of the time) | Time-consuming |
| Reduce waste | Wear and tear  |
| Opportunity to experiment and find your style | Hard to find your size |
| Alternative to mainstream fashion | Occasionally more expensive |
| Support charitable causes | Stores are out of the way |
| An arguably more rewarding experience | More planning effort |
| Better quality | |
| More variety | |
| Encourages creativity and patience | |
| Great for one-time wears e.g. wedding dresses | |
In the spirit of navigating these challenges, here are some helpful pointers to get you well on your way to 'professional op shopper' status.
Five tips for the savvy op shopper
1. Dress for the occasion
Like all shopping expeditions, what you wear can make or break the experience. While you might be in the market for a new skirt and button-up blouse, wearing them while shopping isn't always a good choice.
A strategic op shopping outfit may look like skinny jeans or tights, a fitted top and some slip-on shoes. This choice will allow you to slip on any (perhaps unwashed) pre-loved outfits over the top, while still getting a good idea of the fit. You can save a lot of time by simply avoiding the need to battle shoelaces in the changing room!
2. Have a plan and make a day of it
The key to a successful op shopping mission is a good plan. Having a general idea of the op shops you want to peruse and the time it will take to travel to between each one will give you a plan of attack. A quick online search will show you which stores are in your shopping radius. Making a day of it by bringing a shopping friend and factoring in lunch between stores can make for a fun day out!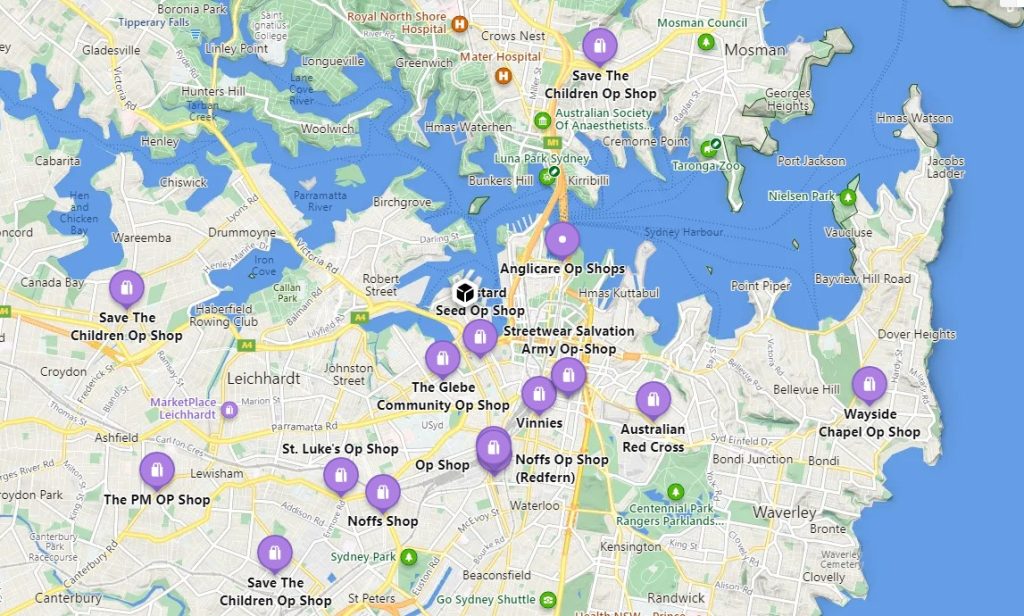 3. Examine clothing closely
Bear in mind that most items of clothing in op shops have had a whole other life before you. While that's the point, carefully examining pieces for any 'deal breaking' wear and tear is an easy way to ensure your find is fit for the checkout. A simple 'once over' can avoid any unpleasant surprises when you've brought your new clothing home.
4. Invest in some sewing lessons
Learning to mend and make alterations can be the difference between leaving that piece you really like behind, or introducing it to your wardrobe. The reality of op shop finds is that they're usually imperfect, with a pull here or some room for improvement there. I've personally gotten items for even less after noticing a small hole that I quickly mended myself – that Saba turtleneck was one, in fact.
Out of your skillset? Sometimes paying for an alteration – specifically with a good pair of pants – can still work out cheaper than buying new clothes.
5. Shop in 'posh' areas
It goes without saying that higher-end brands often produce better quality pieces. A good rule of thumb is the closer an op shop is to a CBD or higher socio-economic area, the better your chance of scoring an unbeatable find.
Consider matching the demographic against the items you hope to find. For example, an office wear haul could warrant a city op shop day. In saying that, rural op shops can house some surprising gems – I scored my brand new Acler slacks at Vinnies Margaret River.
Conclusion
Opportunity shops are just that, an opportunity to help your bank account, the environment and your style. From saving a pretty penny to reducing waste and experimenting with decades of fashion, op shops provide a unique opportunity to do and have more for less.
With so many charitable organisations and worthy causes, Australia is somewhat of a haven for those with a penchant for pre-loved clothing. These feel-good shopping hubs house a plethora of pieces from, and for, just about every shopper.
While op shopping requires some extra time and patience, shoppers are generally rewarded with bargain finds, more variety, the opportunity to experiment and the satisfaction of knowing their individual styles.
Plus, your op shop purchase could help those in need. There are many reasons to become an op shop devotee. Chances are once you cross over, you won't want to enter another mainstream store for a while.
Frequently Asked Questions (FAQ) – Op-shops Guide
Why buy from an op shop?
Choosing to purchase pre-loved items from op shops can save you money, stop textiles from adding to the global waste crisis and help you find your unique sense of style.
What are the best op shops in Sydney?
Sydney is home to hundreds of op shops, with many of the best ones found in Surry Hills, Newtown, Redfern and Glebe. Some of our go-to op shops when visiting Sydney include Red Cross Newtown and Broadway, as well as Vinnies Glebe.
What happens to proceeds from items donated to op shops?
This varies depending on the op shop, however, most charitable organisations will keep proceeds in the community, which is why they mostly rely on volunteer store assistants.
Where can you find op shops?
At the time of writing, Australia has almost 3,000 charity shops and social enterprise reuse centres. Almost half of these can be found in New South Wales (25%) and Victoria (24%) alone. Most suburbs and small town centres in Australia have an op shop.
While you're here: Subscribe to our newsletter for the latest tips, deals and news. It only takes a few seconds and we respect your privacy: